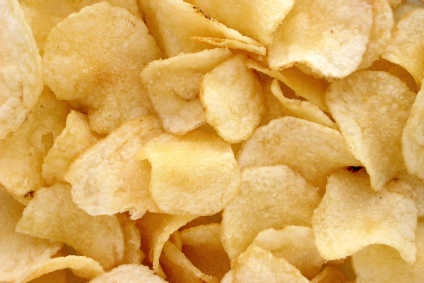 PepsiCo's business in New Zealand has turned to its operations in Australia for production as the snacks giant adjusts to a slump in the local potato crop after months of heavy rain in the country.
It is estimated the rainfall has led to a 20% decline in New Zealand's annual potato crop, has led fears of a shortage of potato products, including crisps, which some have dubbed a 'chipocalypse'.
A sign at a Pak 'N Save store sparked concerns about a potato shortage and industry figures have revealed the pressure on crops.
Chris Claridge, the chief executive of industry organisation Potato New Zealand, told The Country radio show "continuous rain since March in the north of the country" had hit supplies.
"At the beginning of the year, the fields were at field capacity – that means they were full of water already. They never got the opportunity to dry out and, what subsequently has happened is, the crops have rotted in fields and farmers have been able to get in and harvest," Claridge said.
Claridge said New Zealand's geography means the country can grow potatoes "almost all-year-round" but he added: "Prices will remain firm, supplies are not high, processors in the North Island have experienced some difficulties because their supply chains are a little bit more complicated."
Attention: ?? pic.twitter.com/tBRKFRmyGq

— Angela Meyer (@ange_meyer) October 14, 2017
In New Zealand, PepsiCo owns local group Bluebird Foods, which has a plant in the country's North Island. It markets savoury snacks under brands including Bluebird, Delisio and Copper Kettle, as well as under the US giant's Doritos brand.
Asked by just-food if Bluebird's sourcing of potatoes for its snacks was being affected and whether it could temporarily pull some products from shelves, a company spokesperson said: "New Zealand is experiencing potato supply disruptions due to the unfortunate flooding of key farmland areas. Persistent rainfall has significantly impacted farmers, resulting in lost harvests across the industry. To ensure we can continue bringing you great quality product, our sister company in Australia is helping us with our potato supply, temporarily manufacturing Bluebird Thinly Cut and shipping finished goods to New Zealand."
The spokesperson added: "New Zealand farmers are an important part of the Bluebird family, and we want to reinforce that this is a temporary measure only, to supplement our supply of finished product produced in New Zealand, and ensure our consumers can continue to enjoy Bluebird Thinly Cut until local potato supply returns to normal levels."
The poor weather has pushed up potato prices for consumers in New Zealand. In September 2017, the average price for a kilo of potatoes was NZD2.13 (US$1.49), compared with NZD1.69 in September 2016, according to public body Stats NZ.
Foodstuffs, the owner of the Pak 'N Save chain, told Radio New Zealand : "We are working closely with our suppliers to manage supply as much as possible. It is anticipated new season crops will be harvested in the next few weeks so supply is likely to settle down then."
International potato supplier McCain Foods, which supplies business customers and markets consumer products in the country, said the heavy rainfall had had "no impact" on the business in New Zealand.
"It was a wetter than normal harvest during April/May 2017, but not significantly different than other years. Planting for the 2018 crop has begun slightly later than planned but we are well underway and we expect to finish planting on time," a McCain spokesperson said.
Around 500,000 tonnes of potatoes are produced in New Zealand each year, with two-thirds going into processing.