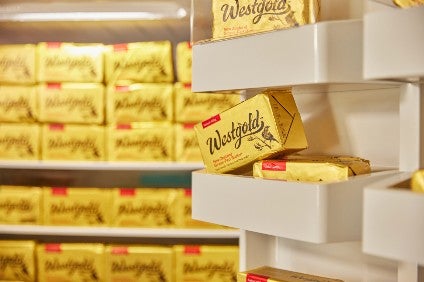 Westland Milk Products plans to double capacity at its butter manufacturing factory in Hokitika as New Zealand's second-largest dairy cooperative aims to tap the global market for its Westgold brand under new Chinese owners.
South Canterbury-based Westland, which was acquired in 2019 by Chinese dairy firm Inner Mongolia Yili Industrial Group, is investing NZD40m (US$27.8m) in the initiative named Project Goldrush to increase production of Westgold butter made from grass-fed milk. Construction of the extension to the Hokitika plant, located in New Zealand's West Coast region, is expected to start in May and last for three months.
Westland's "resident director" Shiqing Jian said: "The investment highlights the important role Westland plays in Yili's ongoing plans to supply international industrial and consumer markets".
The Co-op made reference to market data showing the US, China and Russia are the world's largest importers of butter, with Jian adding in a statement: "Chinese consumers are also continuously looking to improve and diversify the application of butter products in baking, cooking and desserts. In future, demand for butter production and processing of Yili and Yili subsidiary brands will be considerable, and the upgraded Westland plant will play an important role."
Hamish Yates, Westland's general manager for sales and marketing, said the company already sells its butter in the US and China, which are among more than 20 counties it exports to including Japan, but "a large part of what we supply currently is bulk commodity butter".
Chief operating officer Richard Hickson said the butter plant upgrade would increase Westland's consumer butter production to a total of 42,000 tonnes a year.
"We will be replacing the existing single churn that was commissioned in 1978 with two German-built churns. These will offer greater quality control and production efficiencies," Hickson said.
"New packaging lines will also allow us to package different formats and, at the back end, we're upgrading palletising to give us greater efficiency, speed and stacking combinations to suit the varying requirements of international markets."