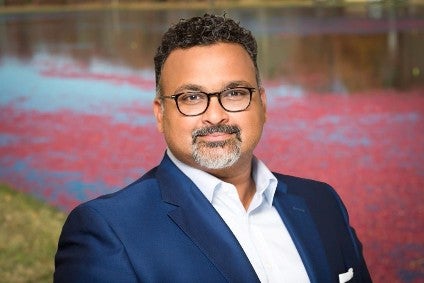 Ocean Spray Cranberries has named Bobby Chacko as the new chief executive of the US-based food and beverage company.
Chacko, who joined the cranberry cultivator as chief growth officer in 2017, will replace outgoing CEO Randy Papadellis, who in February announced he would step down on 1 July. Chacko will also retain the position of president, a role he took on in January, along with the position of chief operating officer.
Prior to joining Ocean Spray, Chacko served as regional president of Mars Drinks' North American business. He previously held various positions at The Coca-Cola Co, Anheuser-Busch InBev and GE Capital.
Chairman Peter Dhillon said of Chacko's new appointment: "We spent a lot of time evaluating the needs of the business, speaking to stakeholders, and ultimately looked at several candidates both internal and external. Bobby was the clear choice."
Chacko looks set on taking forward the business, which takes in 700 family farms and more than 2,000 employees.
"Ocean Spray's story is close to nine decades old but we are just getting started," the new CEO said. "I want to thank the board, growers, and my colleagues for giving me the opportunity to write the next chapter with them."