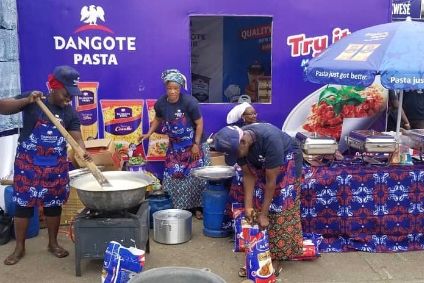 Nigeria-based flour and pasta supplier Dangote Flour Mills has attracted takeover interest from Singapore-based Olam International, one of the world's largest agri-food businesses.
Olam has submitted an offer to buy Dangote Flour Mills for NGN130bn (US$361.6m). The bid, if accepted by Dangote Flour Mills' shareholders and approved by regulators, would be the latest in a series of acquisitions Olam has made in Nigeria. The company's most recent move came three years ago when it snapped up another business in the flour and pasta sectors in Nigeria, Amber Foods.
A deal would see Olam attain Dangote Flour Mills' five manufacturing facilities. K.C. Suresh, managing director and CEO of Olam's grains and animal feed operations, said the acquisition would double the company's wheat-milling capacity in Nigeria.
"The acquisition of DFM supports the strategy of the Grain and Animal Feed business, one of Olam's prioritised platforms for growth, to expand our wheat-milling capacity in high-growth markets, such as Nigeria," Suresh said. "Since 2010, when we first acquired Crown Flour Mills in Nigeria, Olam has invested in and grown a world-class wheat milling franchise with a strong regional footprint across four countries in sub-Saharan Africa. Bringing together Olam and DFM would provide enhanced manufacturing capacity and create synergies with our existing business to deliver improved products to meet customers' needs in the market."
In a statement announcing the bid, Olam said demand for "high-quality flour is expected to continue to grow" in Nigeria, driven, it asserted, "by increased consumption of convenient and affordable wheat-based products, such as bakery, snacks and pasta".
The company added: "Olam's and DFM's complementary manufacturing footprint would allow a broader reach across the Nigerian population. Olam will further leverage its strengths and scale in global sourcing, freight, risk management and operational excellence to deliver operational and cost efficiencies which in turn would deliver higher value to the Nigerian consumers by supplying them food staples manufactured in Nigeria, at a lower cost."
In its own statement, Dangote Flour Mills, which is listed on The Nigerian Stock Exchange, confirmed it had received the bid. "The board will review the offer in the best interest of shareholders," Dangote Flour Mills said. "The board will keep both the capital markets and the public updated on tangible development [sic] in this regard, in line with the applicable regulatory requirements."
In 2018, Dangote Flour Mills generated revenue of NGN112.34bn, down from NGN124.69bn in 2017.
The company made a total comprehensive loss of NGN1.14bn, versus a profit of NGN15.13bn a year earlier – or a profit of NGN9.31bn from continuing operations.
Dangote Flour Mills started operations in 1999, as a division of Nigerian conglomerate Dangote Industries. In 2006, the conglomerate decided to unbundle its various operations and Dangote Flour Mills was set up as a separate company.
In 2012, South Africa-based FMCG group Tiger Brands acquired a majority stake in Dangote Flour Mills. It sold the shares three years later.