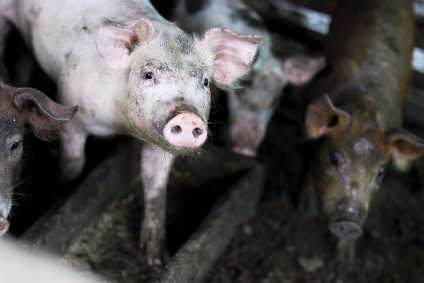 Canadian pork groups Olymel and Groupe Robitaille have announced plans to invest CAD80m (US$61m) to expand their jointly-owned Aliments Lucyporc hog slaughtering, butchering and processing facility in Yamachiche, Quebec.
The move, part of joint plans to capture new business in Canada and Asia, comes after the firms said yesterday (9 August) they had completed due diligence for a joint venture deal announced last November, under which Aliments Lucyporc, formerly owned by Groupe Robitaille, is now owned equally.
The investment at the new venture, which will continue to operate as Aliments Lucyporc, will lead to increased production. The partnership agreement also includes Groupe Robitaille's Viandes Dunham meat processing company that serves the hotel, restaurant and institutional sector.
Olymel said operations under the venture are linked to its planned reorganisation of activities in the fresh pork sector in eastern Canada – which will see it introduce a second shift and expanded operations at its own Atrahan hog slaughterhouse and deboning facility in Yamachiche over the next three years.
Competition authorities gave the green light for Olymel and a third pork business, Atrahan Transformation, to merge their hog slaughtering, butchering and processing operations at the Atrahan facility in February. The Atrahan site "will create ideal conditions" to share expertise, maintenance and compliance and meet demand from the Japanese pork market, the firms said.
Work planned at Atrahan includes redeveloping the hog receiving area, and expanding the slaughtering section, cold rooms and the butchering room, storage areas, shipping and service areas, as well as water treatment facilities.
"Once the work is completed, the plant will be outfitted with the latest equipment, enabling it to meet its customers' rigorous demands and… further increase the value of its products and by-products, and continue producing superior quality niche products such as Mugifuji pork and Nagano pork, featured Lucyporc brands, as well as chilled pork," the firms said.
Olymel president and CEO Rejean Nadeau said the changes "will also enable us to meet growing market demand, at home as well as in Asia, and will have a positive impact by strengthening the pork industry in Quebec".
Nadeau said: "Over the past year Olymel has injected more than CAD150m into its fresh pork sector in eastern Canada. These major investments could not have been made without being accompanied by a major reorganisation aimed at making our business more competitive vis-a-vis larger competitors on the international scene."
In addition to the 360 Olymel employees at Atrahan and the 430 at Lucyporc, the new venture will create 350 jobs.
In June, Olymel said it planned to invest more than CAD25m to expand its hog slaughterhouse and butchering facility at St-Esprit in the Lanaudiere region of central Quebec.
Earlier this month, Olymel anounced it would end ham deboning operations at its plant in Saint-Hyacinthe, south-western Quebec, by September 2017 with the loss of 340 jobs.