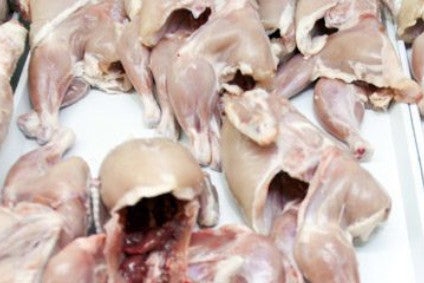 Canadian poultry processor Olymel has announced a US$10m investment into expanding its poultry site in St-Damase.
Olymel will increase the production capacity and install an air chilling room at the Quebec-based site, which specialises in chicken slaughtering and butchering.
The expansion is expected to create ten jobs. It will begin on 15 May and add 15,000 square feet to the existing site.
"This major investment in our St-Damase plant reflects the dynamism of the poultry sector. Our company is equipping itself to better meet demand from its customers by boosting its production capacity, which also benefits the entire poultry sector in Quebec. In terms of volume, thanks to its network of facilities and its business partnerships, Olymel is now the number one poultry processing company in Canada. This new investment in St-Damase and projects elsewhere in the poultry sector, both completed and planned, will also help to consolidate our presence on the markets, while generating important spinoffs for poultry producers," Olymel president and CEO Réjean Nadeau said.
Last year, Olymel invested in its poultry site in Sainte-Rosalie. The company added a third cooking line, increasing the volume of cooked chicken products manufactured there by 40%.
Through these investments, Olymel said it is "intensifying its initiatives" to add value to house brands such as Olymel and Flamingo, and has also increased its production capacity making it better able to serve private-label production.
Nadeau added Olymel would "soon be announcing another major investment" at its site in Brampton in Ontario.