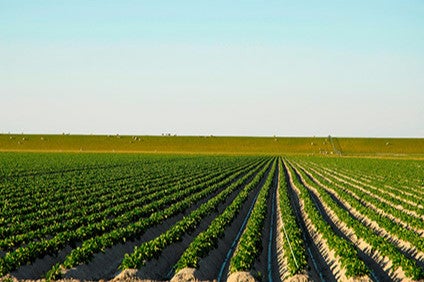 The US organic food market has smashed through the $40bn mark last year, with sales hitting a record-breaking $43bn and accounting for more than 5% of total food sales in the country.

Organic food sales jumped by 8.4% or $3.3bn in 2016, far outstripping the overall food market, which only recorded a 0.6% rate of growth over the same period, according to data from industry body the Organic Trade Association.
"The organic industry continues to be a real bright spot in the food and ag economy both at the farm-gate and check-out counter," the OTA's CEO and executive director, Laura Batcha, said.
The largest sector of the organic food market is fruit and vegetables, which account for almost 40% of all organic food sales. Organic fruit and veg sales in the US rose 8.4%, almost three times the 3.3% growth rate of total fruit and vegetable sales. Organic fruit and veg now make up nearly 15% of all the produce consumed in the US.
Produce has traditionally been the entry category for consumers new to the organic market, largely because the benefits are probably the easiest to understand, the OTA claimed. "We touch the fruit or vegetable, smell it, and immediately make that connection between that carrot, for example, growing in clean healthy soils and putting it into our bodies," said Batcha.

Demand for freshness and convenience are factors driving sales, Batcha added. "Across all organic food categories, shoppers are placing high value on freshness and convenience. In produce, grab-and-go salads and ready-to-eat veggies – fresh or frozen – were top sellers."
Sales of organic meat and poultry are growing even faster than fresh produce, up by more than 17% in 2016 to reach $991m, the category's biggest ever yearly gain.
The OTA predicts sales of organic meat and poultry will grow to over the $1 bn mark for the first time this year. "Growing awareness of organic's more encompassing benefits over natural, grass-fed or hormone-free meats and poultry is also spurring consumer interest in organic meat and poultry aisles," said Batcha.
The organic condiment category is not one of the largest organic food categories but it experienced rapid growth in the past year, with organic dips, for example, soaring by 41% with $57m in sales. Organic spices too enjoyed a big boost in sales, up by 35% to $193m.
However, Batcha warned despite the healthy growth enjoyed by the organic market, it faces challenges to enable it to continue on its upward trajectory.
"Organic products of all sorts are now found in the majority of kitchens and households across our country," she said. "We need more organic farmers in this country to meet our growing organic demand, and the organic sector needs to have the necessary tools to grow and compete on a level playing field. That means federal, state and local programs that help support organic research, and provide the organic farmer with a fully equipped tool kit to be successful."