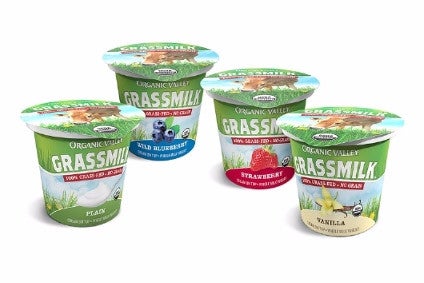 Organic Valley, the largest organic dairy cooperative in the US, is launching a line of 100% grass-fed yogurt in single-serve cups.
The company is rolling out Grassmilk Yogurt cups in four varieties: strawberry, wild blueberry, plain and vanilla. Organic Valley said it is targeting consumers who want a premium, healthy, convenient snack option.
From this month, Organic Valley Grassmilk Yogurt cups will be available in natural food stores, food cooperatives and major grocery chains throughout the US with a SRP of US$1.69.
The organic yogurt line is made using milk from cows that only eat grass. "Feeding our cows organic grass 100% of the time produces the highest quality milk and ensures our dairy cows lead longer, healthier lives–all while improving the health of the land," said Wisconsin Organic Valley farmer-owner Kevin Jahnke.
In just-food's recent analysis of natural food trends expanding into the mainstream, grass-fed was identified as a key trend for meat and dairy products in the US.