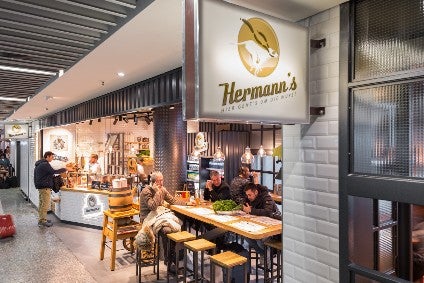 Swiss fresh meats and pasta business Orior is entering the foodservice to-go market with a 35% stake in Germany-based Casualfood.
Orior, which owns brands Rapelli, Ticinella and Pastinella, said it will acquire the target company in several stages over the "next few years", adding that Orior Group will hold a majority interest in Casualfood and fully consolidate its participation from autumn 2019 onwards.
The acquisition will be financed with cash on hand and Orior's existing lines of credit.
"Orior is realising its long-envisioned strategic expansion into the highly dynamic foodservice to-go market in the fresh convenience segment and connecting directly with consumers," it said in a statement today (4 September).
Casualfood is described as a "customised, location-specific establishment and operator of mobile and stationary grab-and-go food islands with proprietary, innovative brand concepts targeting the travel gastronomy market", mostly at airports. It supplies food and drink products such as sandwiches, salads, muesli and smoothies.
Its foodcart businesses found at airports include Hermann's, Italissimo, Mondo, Natural and Quicker's.
The company was founded 13 years ago and generates annual revenues of around EUR52m (US$60.2m), mostly from its domestic market in Germany. It employs more than 700 people and operates 58 so-called food islands. It established a new location in Slovenia's Ljubljana Airport in 2016.
Orior chief executive Daniel Lutz said: "This acquisition brings us in direct contact with the consumer. That gives us exceptional opportunities to detect and latch on to food trends with far more speed and agility than before and then funnel that knowledge into new brand and product concepts. At the same time, Casualfood strengthens our competencies in the foodservice business, expands our presence on the European continent and enhances our innovation power."
Casualfood will operate independently within the Orior international segment and its founders, Stefan Weber and Michael Weigel, will stay on with the company as shareholders and managing directors. The new business unit will be represented in Orior Group's management board once full control has been taken.