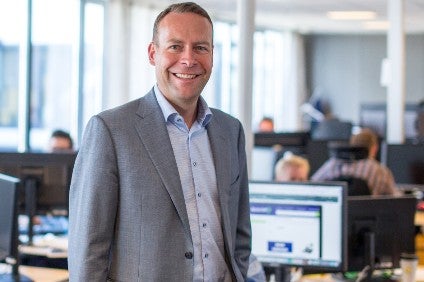 Orkla's new chief executive, Jaan Ivar Semlitsch, provided some insights today (24 October) on how he hopes to accelerate the company's organic growth, with an indication he plans to get behind some of the Nordic food group's existing brands as well as a continued focus on M&A.
"The strength of our core brands should not be underestimated but we have some real hidden jewels in our portfolio, which we need to be better at developing and scaling up," Semlitsch told an analyst call following its third-quarter results. "Our industry is changing faster than ever before and having strong brands will for sure give us some time but can never be used as an excuse not to change.
"We are good at understanding local consumers but we need to get even better at converting these insights faster, with attractive products and services."
Orkla's strategy to date has largely rested on M&A, with a number of deals instigated over the last couple of years, many in the ingredients part of the business. But annual organic growth rates for the company's mainstay Branded Consumer Goods business – a division that includes Grandiosa pizza and Toro snacks – have been muted of late.
That metric was 0.2% last year, down from the 1.6% print in the previous 12 months. The third-quarter result was more positive, coming in at 1.5%, led by a "strong performance" in confectionery and snacks.
Still, Semlitsch maintained the three-year target through 2021 at above or inline with the market for organic growth, and a 1.5 percentage point margin improvement.
"We have much greater potential for organic growth," the CEO said on the call today. "M&A will still have an important role to play in our development but the emphasis must be on growing our portfolio organically. Although our overall M&A strategy and execution has been highly value-creating, there is still room to improve."
Today's earnings notes unveiled a new project to strengthen Orkla's competitiveness, which Semlitsch revealed on the analyst call is named Project Future. It will help us deliver on the 2021 targets and use opportunities to accelerate organic growth, he said.
In the third-quarter report, he said preliminary assessments show Orkla can reduce annual costs at its Oslo headquarters in Norway by NOK150-200m (US$16.4-$21.9m) as the company seeks to boost efficiency.
Earlier this month, he created a new role of executive vice president for M&A and strategy, a position to be filled by former DuPont executive Sverre Prytz at the start of December, and part of a brief to strengthen the top management team.
"I want to strengthen our execution capabilities around organic growth, operational efficiency and more active portfolio management," he added on the call. "It's about simplifying our current structure to increase product time to market."
See just-food's analysis ahead of Semlitsch's appointment: Will Orkla investors get what they want from incoming CEO?