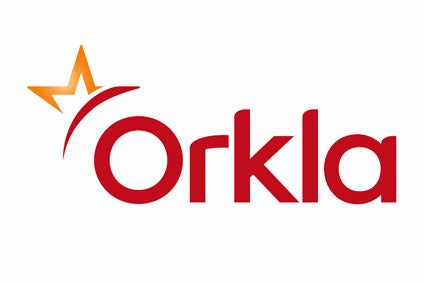 Orkla booked higher first quarter earnings for its core consumer goods businesses, which it has been expanding through M&A.
The company said operating profit rose by 13% in the three months to NOK817m (US$102.4m). Branded consumer goods "continued to deliver improved results", the Nordic conglomerate said. Operating profit for Orkla's branded consumer goods business totaled NOK860m, an improvement of 12%. Adjusted for currency translation effects, it was an improvement of 7%.
Pre-tax profit rose by 57% to NOK1.25bn, supported by an improved result from energy joint ventures Sapa and Jotun, which Orkla plans to divest.

Orkla's operating revenues rose by 14% to NOK8.61bn. Branded consumer goods posted organic turnover growth of 1.8%, driven by the Orkla foods and Orkla confectionery and snacks units.

"For the eighth consecutive quarter, we have succeeded in achieving organic turnover growth in markets where there is strong international competition. We have had several successful new launches, and are also seeing the effect of numerous internal improvement projects. We made a number of important acquisitions in the quarter that will strengthen our operations going forward," said Orkla president and CEO Peter Ruzicka.

Among Orkla's acquisitions, the company has expanded in central Europe with the purchase of Hamé. Through its purchase of O. Kavli, Orkla Foods Danmark has strengthened its position in the Danish grocery market. Both agreements have now been approved by the relevant competition authorities, Orkla revealed.