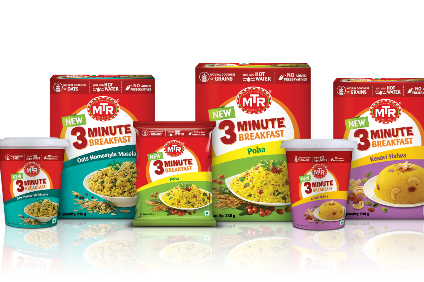 MTR Foods, the Indian business owned by Nordic group Orkla, has broadened the range of breakfast foods it sells in the country.
The company said its 3 Minute Breakfast line would give consumers the option of eating Indian dishes in the morning, rather than cereal.
"The organised breakfast market in India is driven by a need for convenience with consumers sometimes compromising on what they would like to eat for quicker options like pour-and-eat cereal. Most Indians at a breakfast buffet in hotels choose Indian food with similar behaviour being observed in college canteens and train stations. Yet, the same people, when they are at home and in a hurry on a weekday morning choose a bowl of cereal and milk just because it's quicker and more convenient than Indian breakfast," a spokesperson for MTR Foods said. "The MTR 3 Minute Breakfast, which can be ready in less than three minutes by just adding hot water, will now give Indians easy access to a hot, comforting range of Indian breakfast dishes in just three minutes."
MTR said the new range includes two upma – a dish cooked as a thick porridge – lines, as well as two lines of poha, a rice-based dish.
The company is selling the products in different formats – a 60g single-use pack, a cup variant and a 230g multiple-use box. The single pack has a recommended retail price of INR20. The cup format have an RRP of INR60, while the multi-use packs have been recommended to be sold at INR80-85.
Retailers including Aditya Birla, Tesco and Hypercity are selling the products, with a listing at Reliance Retail to by the end of April.
The MTR spokesperson described the breakfast market to be "one of the most successful categories" at the company.