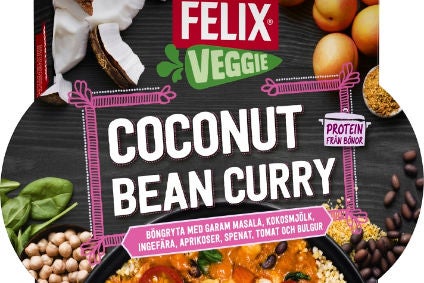 Orkla has developed a line of meals aimed at what the Nordic food group says is growing interest in Sweden for vegetarian food.
The company is rolling out four frozen dishes – Halloumi Hotpot, Chipotle Chili, Coconut Bean Curry and Mexican Rice Bowl.
Announcing the launch of its Felix Veggie meals, Orkla said a recent survey carried out by the company claimed over half of Swedes wanted to eat more vegetarian food.
Speaking to just-food, Maria Tilly, a marketing manager for Orkla's Swedish business, said around 10-15% of the Swedish population is vegetarian, adding: "It has strongly increased especially among young people."
Orkla already has a presence in Sweden's meat-free food market after buying local vegan foods producer Anamma Foods last summer. Tilly said Anamma, as well as Hälsans Kök, owned by Israel's Osem Investments, and Quorn Foods' namesake brand were among the major vegetarian brands on sale in Sweden.