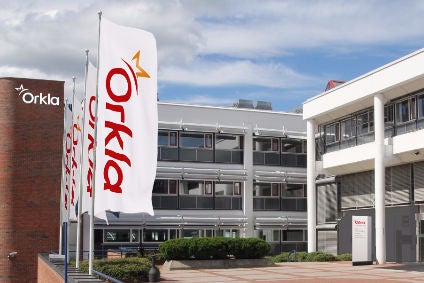 Orkla, the Nordic food group, has set out changes to its executive board in a bid to "strengthen the group's priority areas".
Among the changes, Johan Wilhelmsson, the CEO of Orkla's foods divisions in central Europe and the Baltics, has been given the job of CEO of the company's foods operations in all international markets.
"The intention is to increase focus on central Europe as an important geography for value creation and expansion," Orkla said.
The CEO of Orkla's confectionery and snacks division, Ann-Beth Freuchen, has become the CEO of the company's foods units in the Nordic and Baltic markets. The Nidar confectionery owner said it would recruit to replace Freuchen.
Karl Otto Tveter, Orkla's chief of group functions and director of legal affairs, has been moved to executive vice president for strategy, development and new growth areas.
Peter Ruzicka is to continue as Orkla's president and CEO. Jens Staff will remain the company's CFO.
The changes come into effect on 1 October.
The announcement was made alongside the publication of Orkla's second-quarter and first-half results.
Orkal reported a 4.6% rise in first-half operating revenues to NOK19.73bn (US$2.42bn). Operating profit was up 9.9% at NOK1.89bn.
The group's net profit stood at NOK1.57bn, down from NOK2.17bn. However, the net profit generated in the first half of 2017 included earnings from discontinued operations in the shape of aluminium firm Sapa. Orkla sold its 50% stake in Sapa last year as part of its drive to focus on consumer goods.
Focusing on Orkla's second-quarter figures, Sanford Bernstein analyst Andrew Wood argued the results were "just not good enough – again".
He said: "After a strong and promising Q4 2017 and then a weak and disappointing Q1 2018 we had hoped for a nice recovery in Q2. This did not transpire as we had expected. The results can be considered mixed, at best, with another set of excuses, and are certainly still not good enough.
"In more detail, after a good Q4 2017 (+2.8%) but weak Q1 (+0.1%) Branded Consumer Goods (BCG) organic growth slowed further in Q2 (-0.2%), the worst quarter since Q1 2014, and well-below our expectations (+1.9%). Margin growth in Q1 (-50 basis points) was even more disappointing than sales growth and, at least, Q2 saw some improvement (+10bps), albeit below consensus (+25bps) and well-below our expectations (+60bps)."