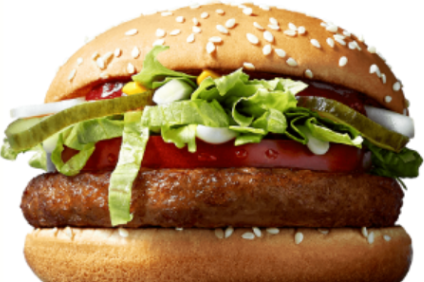 Scandinavian food group Orkla has developed a new vegan burger for fast food giant McDonald's.
Developed through Anamma, one of Orkla's Swdeish units,, the McVegan burger was tested in a number of McDonalds' outlets in Finland in October and November and will be launched throughout Finland and Sweden on 28 December.
Orkla, which developed the burger alongside McDonald's food team, said it hoped its cooperation with the burger giant is long term and "offers great opportunities to develop more new dishes and flavours".
Tapping into the trend whereby an increasing number of people want to cut down on their red meat intake, the McVegan burger – or Anamma Vegoburg – is based on soybean protein.
Nina Sandström, marketing manager at Anamma, said: "We are wonderfully proud that McDonald's chooses to build its new burger on Anoma 'road map'. It gives more opportunity to discover how good and easy it is to eat vegan, while at the same time we reduce the climate pressure on our planet."
Staffan Ekstam, head of food strategy at McDonald's, said: "It is both fun and exciting that we have started cooperation with Orkla Foods Sweden and their brand Anamma. That means we can work with the best in the industry when it comes to vegan products, and that we can offer our guests a vegan burger developed in Sweden.
"Our ambition is that there will be something on our menu for all 400,000 guests visiting us every day and with Mc Vegan we are expanding our offer further."