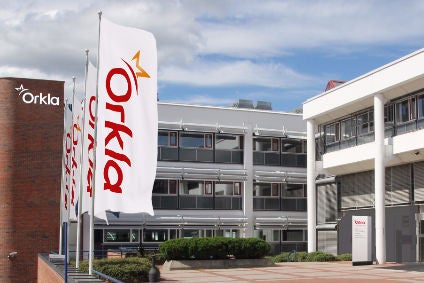 Orkla, the Nordic food group, today (9 May) booked higher first-quarter revenues and operating profit amid organic growth and the company's expansion via recent acquisitions.
The company's first-quarter net profit was flat due to an increase in tax expenses.
The owner of brands including Grandiosa pizza and Toro sauces posted operating profit of NOK813m (US$94.1m) for the first three months of 2017, up from NOK787m a year earlier. Adjusted for factors such as M&A and integration costs, first-quarter EBIT was NOK900m, compared to NOK817m a year earlier.
Orkla's operating revenues increased 5% to NOK9.08bn amid "structural and organic growth" from the company's branded consumer goods.
The company it had seen organic growth from its confectionery and snacks business, helped by higher volumes. Orkla said "growth was particularly good" in its biscuits business.
Orkla Foods, which does not include confectionery and snacks but is the company's largest division by sales, reported better sales and profits, "mainly driven by structural growth", Orkla said. It posted "moderate organic sales growth" in the Nordics.
The company's first-quarter net profit reached NOK1.1bn, level with the first quarter of 2016.
Orkla's published outlook takes in the period between 2016 and 2018. It said it aims "to deliver organic turnover growth that at least matches market growth". It is also targeting "growth in annual adjusted EBIT of 6-9% in branded consumer goods" during the period.