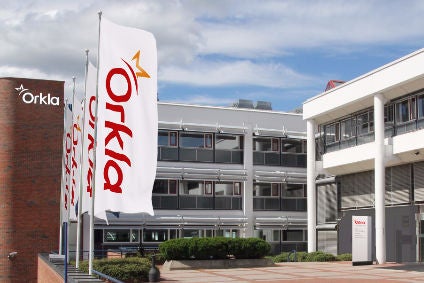 Orkla today (1 November) booked higher third-quarter sales and profits, with much of the Nordic food group's top-line growth driven by recent acquisitions.
The company posted a 13% rise in operating revenues to NOK9.43bn for the three months to the end of September.
On an organic basis, Orkla's branded consumer goods division, now its core operations, saw revenues grow 2%. Orkla said the division's growth was "on a par with market growth".
The division's Orkla Foods, Orkla Confectionery & Snacks and Orkla Care units "showed improvement", the company said. However, the group's Orkla Food Ingredients arm "delivered a slightly weaker performance in the quarter", the group added.
Orkla's operating profit reached NOK2.73bn, versus NOK2.24bn in the third quarter of 2015. Adjusted operating profit, which excludes financial investments, increased 19% to NOK1.18bn.
Net profit, which includes earnings from Orkla's joint ventures and associated, stood at NOK3.18bn, up from NOK2.55bn.
"For the tenth consecutive quarter, we have achieved organic turnover growth in branded consumer goods," Orkla president and CEO Peter Ruzicka said. "Orkla posted a clear improvement in operating profit due to acquired companies, higher sales and internal improvement projects. In addition, work is still in progress on a major integration process after several acquisitions."
Sanford Bernstein analyst Andrew Wood, who has recently started covering Orkla, characterised the results as "mixed but generally positive reporting". Wood said the numbers were "somewhat light on the top-line, well-ahead on margins/EBIT and ahead of consensus (but below us) on EPS growth".
He added: "More specifically, top-line growth for branded consumer goods and total company was slightly below our expectations and behind consensus. The main surprise was weak growth in ingredients, which had been quite strong in Q2. All other businesses were solid."