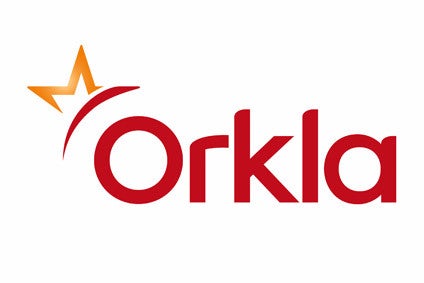 Orkla, the Nordic food maker, today (9 February) reported higher sales and earnings for 2016 despite seeing a slowdown in organic growth during the fourth quarter.
The company said its group sales increased to NOK37.76bn, versus NOK33.2bn in 2015. Operating profit of NOK3.92bn was up on NOK3.11bn and net earnings attributable to Orkla increased to NOK4.29bn compared to NOK3.3bn.
In the group's core branded consumer goods division, full-year sales totalled NOK36.4bn versus NOK32bn. Adjusted EBIT increased to NOK4.3bn versus NOK3.84bn. Operating margin dipped slightly to 11.8% from 12%.
However, branded consumer sales were hit by a slowdown in the fourth quarter when organic growth totalled just 0.1%. "The growth was driven by Orkla confectionery & snacks and Orkla care, while Orkla foods and Orkla food fngredients saw an organic decline in sales in the quarter," the company noted.
At Orkla's foods unit, organic revenue dropped 0.6% in the fourth quarter. However, for the full year, sales increased to NOK15.48bn compared to NOK12.25bn in 2015.
"The 2015 figures were boosted by high pre-Christmas sales and strong price competition among grocery retailers on Christmas related products, combined with high campaign activity. On the plus side, the expanded distribution agreement with PepsiCo contributed with positive sales growth," the company noted.
Sanford Bernstein analyst Andrew Wood said 2016 was a "good" year for Orkla but stressed the company must now turn its attention to delivering organic growth. "2016 was a good year for Orkla with reasonable branded consumer goods organic sales growth and very strong EBIT growth in-line with our expectations. M&A played a very strong role behind the EBIT growth in 2016, but this impact has started to wane and Orkla now needs to start generating organic margin growth," he wrote in a note to investors.
Looking to 2017, Orkla reiterated guidance for branded consumer organic growth "in-line with the market", which is expected to rise by 2-3%, and 6-9% EBIT growth.