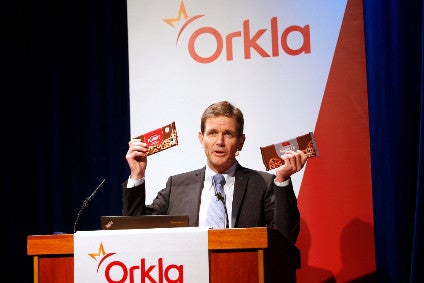 Nordic food group Orkla booked an increase in full-year sales and earnings despite currency fluctuations and "competitive markets".
During 2015, Orkla's operating revenues increased by 12%, to NOK33.2bn (US$3.88bn). Operating profit rose by 12% in the year to end-December to NOK3.6bn, the company revealed today (11 February). Earnings per share jumped to NOK3.24, up from NOK1.63 in the prior year period.
President and CEO Peter Ruzicka stressed the company was able to achieve organic turnover growth in "highly competitive markets".
He added: "In addition, we made several important acquisitions in 2015 that will strengthen our operations going forward."
In December, Orkla concluded an agreement to purchase the Hamé food company, which has a number of strong brands in the Czech Republic, Slovakia and Romania. The acquisition of Hamé will double Orkla's turnover in central Europe, the company revealed. Earlier in the year, the group also struck a deal to acquire personal care business Cederroth.
2015 performance by division
Branded consumer goods
Operating revenues increased to NOK32bn from NOK28.6bn
EBIT increased to NOK3.8bn from NOK3.3bn
Consisting of:

Orkla Foods:
Operating revenue – NOK132bn versus NOK12.2bn
Operating profit – NOK1.7bn versus NOK1.5bn
Orkla Confectionery & Snacks:
Operating revenue– NOK5.8bn versus NOK5bn
Operating profit – NOK843m versus NOK693m
Orkla Care:
Operating revenue – NOK5.5bn versus NOK4.9bn
Operating profit – NOK881m versus NOK852m
Orkla Food Ingredients:
Operating revenue – NOK7.6bn versus NOK6.5bn
Operating profit – NOK414m versus NOK435m
Orkla Investments:
Operating revenue – NOK1.2bn versus NOK974m
Operating profit – NOK211m versus NOK180m