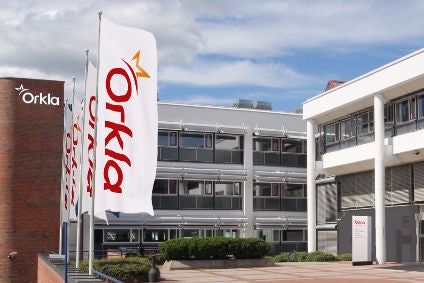 Scandinavian food group Orkla has included a specific salt and sugar reduction target as part of its sustainability goals for the first time.
The Oslo-based company has set a target of 15% less sugar and salt in its products by 2025, against a base year of 2015.
Other goals are to halve food waste, to have 100% recyclable packaging and to reduce greenhouse gas emissions from its own operations by 60% by that date.
The 2025 goals build on Orkla's 2020 goals, which were developed in 2014.
Peter Ruzicka, Orkla's president and CEO, said: "More and more people want to contribute to sustainable consumption by throwing away less food, using less plastic and making other green choices on an everyday basis.
"We at Orkla want to play a part in designing tomorrow's solutions for our products, and are now significantly raising our level of ambition, particularly in the environmental area.
"Sustainable production and innovation are key to our ability to respond effectively to changing consumer preferences. We will use our local presence and our strong brands to develop products and services that are good for people and the environment."

A company spokesperson told just-food: "The new goals are more specific in several areas, including when it comes to nutrition and wellness. This is the first time that we establish specific group-wide targets for salt and sugar reduction."
Orkla said that in 2017 it reduced sugar in its products by 1,040 tonnes. The products involved included bread toppings, smoothies, jam and ketchup.
In-depth analysis from just-food: Why are food companies aligning with UN Sustainable Development Goals?