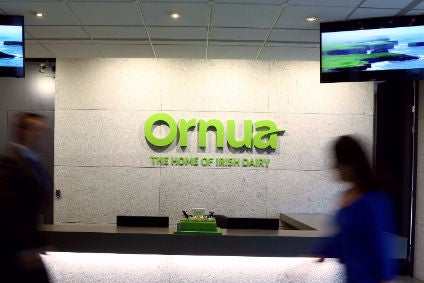 Ornua, the Ireland-based dairy co-operative, today (20 April) reported higher turnover and profits for 2015, figures that included the now sold US distribution business DPI Specialty Foods, with results from continuing operations lower year-on-year.
The Kerrygold owner booked turnover of EUR2.54bn (US$2.89bn) for last year, up from EUR2.34bn in 2014. Profit attributable owners of the parent was EUR55.3m, against EUR18.9m the previous year. Operating profit stood at EUR78.3m, against EUR28.1m in 2014.
However, stripping out the contribution from DPI Speciality Foods, which Ornua classed as discontinued operations after the sale of the business to private-equity firm Arbor Investments in December, both turnover and profits from continuing operations were lower.
On that basis, turnover was EUR1.6bn, compared to EUR1.61bn in 2014. Profit was EUR2.6m, versus EUR4.8m in 2014.
Operating profit from continuing operations fell from EUR15.9m, versus EUR13.7m a year earlier. However, exceptional items such as interest payable and interest on pension schemes, weighed on the co-operative's operating profit. Before these charges, operating profit from continuing operations was EUR18.3m in 2015, compared to EUR17.3m.
In a statement, Ornua said it had "delivered a strong performance in terms of both revenue generation and new business development".
CEO Kevin Lane added: "We are very pleased to report a solid 2015 performance across our foods and ingredients businesses. In the first year following the removal of EU milk quotas and the first year of the Ornua identity, we have delivered growth in existing and new markets. We are confident that, whilst recognising the challenging market conditions that exist, our business will continue to deliver strong returns and growth thereby enhancing value for the farmers we represent."