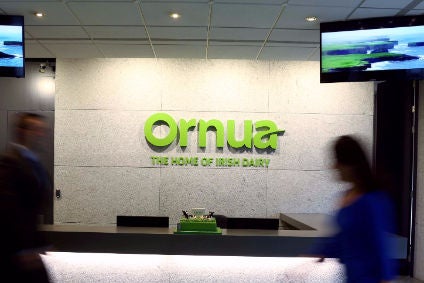 Ornua, the Ireland-based dairy group, has snapped up US dairy ingredients business CoreFX Ingredients from local group MCT Dairies.
The deal, struck for an undisclosed sum, will see Ornua take on a production facility in Orangeville in Illinois. Ornua teamed up with former MCT Dairies and CoreFX Ingredients executive Denis Neville to make the acquisition. Ornua did not disclose what stake the company and Neville would take in CoreFX Ingredients but, on his LinkedIn page, Neville is listed as CEO and owner of the business.
Chicago-based CoreFX Ingredients produces a range of dairy, cheese and lipid powder ingredients for US food manufacturing and foodservice customers. Its manufacturing customers include businesses in sectors like snack foods, sports nutrition and soups.
Ornua CEO Kevin Lane described the acquisition as "another key milestone in Ornua's US expansion programme". Lane said the deal was "in-line with our strategy to invest in high growth and profitable dairy businesses". He added: "CoreFX Ingredients will provide our Ingredients division with greater scale and enhances our capability to deliver bespoke ingredient solutions to our customers. Importantly, we can share its dairy technologies across all of our ingredient operations around the world and in turn drive growth."
Last year, Ornua offloaded its US food distribution business DPI Specialty Foods. The company said the sale would mean it could reallocate resources to its core business.
Neville said the acquisition of CoreFX Ingredients would give the US firm "the opportunity to grow through the addition of technologies, infrastructure and people". He added: "I am excited to build on the platform for entrepreneurial growth that we started just a few years ago with MCT Dairies. The support of an international dairy company of Ornua's reputation and track record will help enormously with our growth plans."