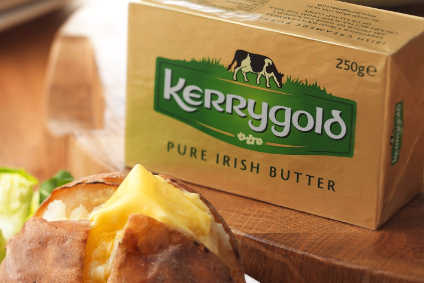 Irish dairy group Ornua has appointed John Jordan as chief executive to replace Kevin Lane, who announced his resignation in December.
Jordan is currently CEO of Ornua's Europe, Middle East and Africa, and Asia division, overseeing the company's Kerrygold and Pilgrim's Choice brands. He was previously the head of DPI Speciality Foods, an arm of Ornua, and prior to that was marketing director for consumer foods at the firm.
He will succeed Lane on 30 June, according to a statement today (13 April).
Company chairman Aaron Forde said Jordan will be responsible for seeing through Ornua's strategic five-year strategy.
In 2016, the company introduced Ornua 2021 in the wake of the removal of EU milk quotas. The strategy aims to "build sustainable and value-added routes to market for Irish dairy products" and to achieve revenues of EUR3bn (US$3.7bn) and an EBITA margin of 3%, according to it 2016 annual report.
Ornua booked "record" annual sales of EUR2.07bn in the 12 months ended in December.

Forde added: "John has proven leadership skills and brings to his new role a deep knowledge of the organisation, the industry it operates in and proven international executive experience.
"As chief executive, he will continue to develop and drive Ornua's strategic agenda as per our five-year strategy Ornua 2021, to deliver sustainable long-term value for Ornua's member-farmer base."

CEO designate Jordan acknowledged the challenges the company faces from Brexit.
"As we face into the challenges of ongoing market volatility, significant uncertainty surrounding Brexit and other areas of international trade, I am confident that Ornua is well positioned to manage all of this from a position of strength.
"With a strong platform of financial performance over the past few years and a clear articulation of strategy to deliver growth of EUR3bn in revenues by 2021, I welcome the opportunity to continue to develop and build on the remarkable performance we have achieved thus far."