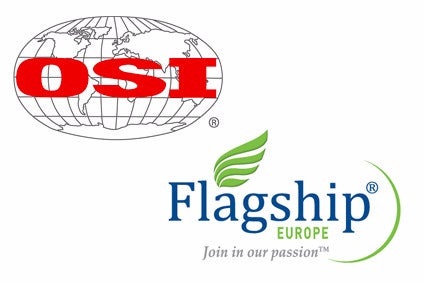 Meat processor OSI Group has acquired UK foodservice supplier Flagship Europe from fellow US company Flagship Food Group.
OSI Group pointed to Flagship Europe's range, including frozen poultry, pies and condiments.
"Adding Flagship to our OSI Europe business further broadens OSI's presence in Europe," OSI Group COO David McDonald, President and Chief Operating Officer of OSI Group. "The company's portfolio of products and brands complements OSI's current processing strengths while broadening our capabilities to best serve the evolving needs of our customers."
The deal, announced just before Christmas, came two months after Flagship Europe acquired UK food-to-go supplier Calder Foods.
Flagship Europe chief executive Russell Maddock said: "This is another exciting and progressive development for Flagship Europe. The increased resources that will become available to us, along with the access to new clients and global markets as part of the OSI Group, will strengthen our position in the marketplace, improve our proposition and open up new opportunities that will enable us to serve our customers better and support our already successful business."
Rob Holland, the CEO of Flagship Food Group, told just-food the sale would help the company grow its retail brands. "In short, we sold our European foodservice division to OSI because we believed that it was an excellent fit for those two businesses, and because it allows us to focus on our fast-growing brands like 505 Southwestern, Lilly B's, and TJ Farm's. We believe that 505 Southwestern is the country's fastest-growing, nationally-distributed Southwestern brand. Our organic and good-for-you brand Lilly B's has quadrupled in size in the past year, and we are fully committed to growing these key assets. Thus, selling our European food service business provided us with the resources and focus to accomplish this."