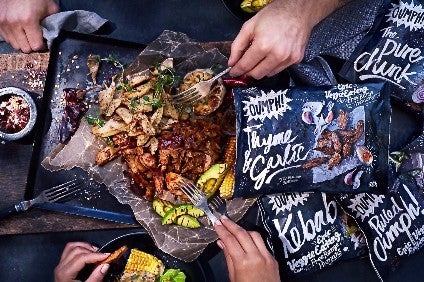 Sweden-based vegan-foods supplier Food For Progress has entered Ireland, the company announced today (25 January).
Food For Progress has launched flagship brand Oumph through Tesco's Irish stores.
The UK retailer, which gave Oumph its retail debut on that side of the Irish Sea last year, is stocking five SKUs, including pulled-pork alternative Pulled Oumph and an Italian-style pizza. The products are priced at EUR5 (US$5.68)
"This category is expanding rapidly and with more consumers trying to reduce their meat consumption, particularly in Veganuary, Oumph is perfect for them, for vegetarians and for vegans too," Nick Jacobs, the head of sales for Oumph in the UK and Ireland, said.
Food For Progress was formed in 2014 by Anders Wallerman and Anna-Kajsa Lidell. Wallerman is the son of the family behind Ecab Invest, a business set up 30 years ago in meat production.
Lidell was an entrepreneur who had developed a brand called Beat, using beans to create vegan products. Wallerman had already started supplying non-meat products but the two decided to work together on a business eschewing the use of animals and focusing instead on plant-based food.
just-food interview from spring 2018: Food For Progress co-founder Anna-Kajsa Lidell on vegan supplier's rise, ambitions and Big Meat eyeing alternatives – interview