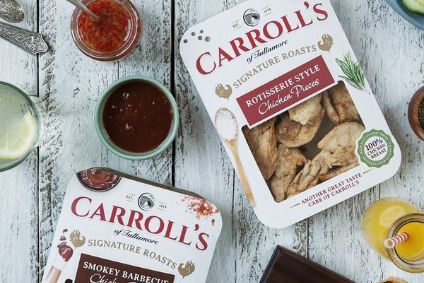 Carroll Cuisine, an Ireland-based food company, may be sold by its existing owners, according to a newspaper report.
The Sunday Times reports US private-equity firm The Carlyle Group, which is the majority owner of Tullamore, Co. Offaly-based Carroll through its Carlyle Cardinal Ireland (CCI) fund, has hired Pegasus Capital, a Dublin corporate finance advisory firm, to find a buyer.
CCI, founded by Carlyle and the Dublin finance group Cardinal, backed a management buyout of Carroll's, which supplies cooked meats and ready meals to the country's largest supermarkets chains, in 2015. It had previously been owned by publicly quoted Irish-Swiss bakery products group Aryzta.
The deal valued the business at EUR37.5m (US$41.7m).
CCI owns a majority of the shares in the business, alongside executives Kieran Carolan, John Comerford and Fiona Delaney.
just-food asked Carlyle and Pegasus Capital for a response to this story.
Carlyle said: "There is no comment on this speculation from Carlyle Cardinal Ireland Fund."