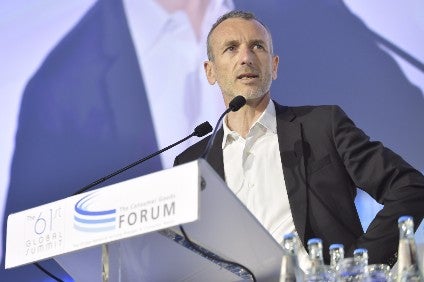 Activia and Evian owner Danone is to spend EUR2bn (US$2.19bn) on "climate-impact" investments – with efforts to make product packaging more environmentally-friendly central to the programme.
The French food and beverage giant is planning a series of changes to the packaging of certain products and is also setting up an "accelerator" to invest in areas such as materials and recycling.
Emmanuel Faber, Danone's chairman and CEO, said the company had been "caught off-guard, as, I think, were frankly everybody else" by the growing consumer scrutiny of packaging in recent years.
Setting out Danone's investment plans alongside the company's 2019 financial results yesterday (26 February), Faber said the group would step up its efforts on packaging "in a pretty radical manner". Around half of Danone's EUR2bn war-chest would be spent on moves to improve the company's packaging.
The packaging for Danone's bottled-water and yogurt products will see changes. By 2025, the company plans, for example, to no longer use virgin PET on its bottled-water products in Europe. "We are going to be 100% rPET in Europe in all our water brands," Faber said. "We start in April already in France on most of the formats. In Germany, the full range and, in the UK, all the on-the-go formats for Evian."
On yogurt, the Danone chief said the company had a target to remove polystyrene, or PS, from packaging by 2024 in Europe and a year later for the rest of the world.
The packaging for Alpro – which Faber said had grown to become a larger brand for Danone in Europe than Activia – will also see changes.
"As soon as 2021, we will move entirely Alpro out of PS – which is mostly the case today – to paper cups, [to] plant-based drinks cartons with and without aluminum but [with] the films being bio-sourced inside and rPET bottles for some of the drinkable versions."
Danone says its plans for its yogurt packaging mean polystyrene would be removed from 25bn cups of yogurt worldwide by 2025.
Overall, the group's packaging programme would see the level of recyclable content in its plastic packaging rise from 60% in 2019 to 95% in 2025. The level of recycled content would increase from less than 10% last year to more than 50% in five years' time.
"With that we believe that we will re-accelerate our brand competitiveness on packaging, which becomes a clear factor of choice for consumers," Faber said.
Through Danone Manifesto Ventures, the group's in-house investment vehicle, the company is also planning to invest up to EUR200m by 2025 on what Faber called "new business models, new materials and recycling solutions, which need to be co-designed with a lot of parties outside of Danone".