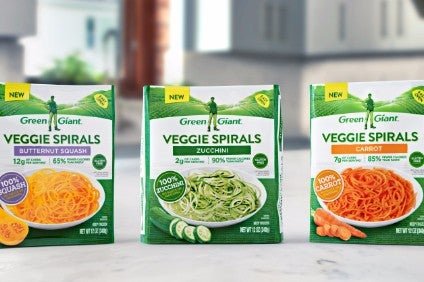 Green Giant brand owner B&G Foods has seen unprecedented demand for its canned and frozen products as consumers pantry-load in fear of Covid-19-linked shortages.
The US-based diversified food manufacturer, which has more than 50 brands, enjoyed its best-ever sales week in the last week of March, booking more than US$65m in product sales.
B&G says the surge has continued in the weeks since the first quarter ended. However, it has admitted that the part of its business supplying the largely shut down foodservice channel has taken a hit and general uncertainty in the current climate had led it to ditch providing financial guidance for the year.
In a call with analysts after reporting its first-quarter results – which revealed a year-on-year increase in net sales of 8.9% to $449.4m and a hike in adjusted EBITDA of 6.4% to $80.7m – CEO Ken Romanzi said of its record week: "We experienced strength in almost all of our brands, but especially Green Giant, Ortega, Cream of Wheat, Clabber Girl, B&M, Bear Creek, Victoria and Underwood.
"Contrary to some belief that consumers were only pantry-loading for the long term, consumers have been consuming a large percentage of the increased volume, driving continued strong performance throughout the month of April with our net sales increasing more than $70m or more than 60% ahead of last year for the four weeks ending April 25."
On parking its financial guidance for full year fiscal 2020, B&G said that although it believes net sales and adjusted EBITDA for full year fiscal 2020 will "materially exceed" the guidance provided when it reported fiscal 2019 results in February 2020, it is "unable to fully estimate the impact the Covid-19 pandemic will have" on its results.
It said the impact of the pandemic on the company's business will depend on many factors, including the duration of social distancing and stay-at-home mandates and whether a second or third wave of Covid-19 will hit the US.
B&G said its ability to continue to operate its manufacturing facilities and maintain its supply chain without material disruption will also be key.
Romanzi told analysts the company's core product range has also aided its recent sales success.
"While some have questioned the health of centre store and even frozen vegetable brands, these are our foundation at B&G Foods and just the trusted products that consumers have turned to in a time of crisis," he said.
But he said the company had "experienced softness" in its foodservice business, which represented around 13% of its net sales in 2019.
"We expect that our foodservice sales will remain challenged as people continue to shelter in place and their away-from-home eating options remain limited," Romanzi said.
In February B&G acquired vegan food business Farmwise and Romanzi told analysts this autumn it plans to "leverage this acquisition" by introducing Green Giant Veggie Fries and Green Giant Veggie Rings, a cauliflower-based take on onion rings.