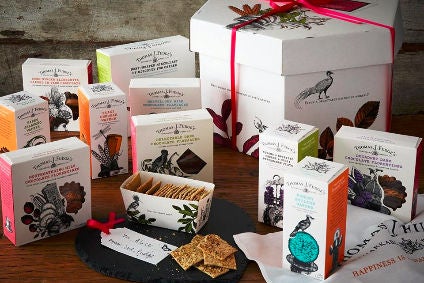 UK-based biscuit maker Thomas J Fudge's has attracted investment from local private-equity firm Livingbridge.
The family-owned business produces crackers and florentines and operates out of a 32,000 square foot site in Dorset. It has a workforce of 133 staff and produced approximately 6.5m biscuits a week in 2015.
Fudge's products are stocked in Tesco and Morrisons, as well as high-end retailers including Fortnum & Mason.
Benoit Broch, Livingbridge director, said: "Thomas J Fudge's has been on our radar for some time following their success in carving out a name for themselves in the premium biscuits market. Our investment will enable this already strong brand to continue its growth in the UK and we fully support their vision to be the UK's number one premium biscuit brand."
The Fudge family's entire interest has been sold to Livingbridge and the company's current commercial and operations director Paul Vita and Vickie Best.
Vita and Best will now be taking an ownership role, and will run the business as joint managing directors.
Spokespeople for Livingbridge and Thomas J Fudge's declined to disclose stake sizes.
Steve Fudge of Thomas J Fudge's said: "We have had a remarkable 100 years developing our family business and are thrilled to be passing it onto Livingbridge as the guardians of our heritage with exciting plans for growth. With younger generations of the Fudge's family focussing on their own careers, we have been looking for some time to find the right buyer for us, our colleagues and our customers and, in Livingbridge, we have found just that."