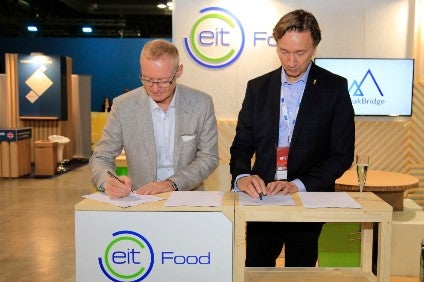 PeakBridge, a venture-capital business in Malta, has launched a seed fund targeted at investments in European agri-food technology start-ups.
The FoodSparks fund has been set up in conjunction with EIT Food, an organisation headquartered in Belgium that supports entrepreneurs and start-ups and is part of the European Institute of Innovation and Technology based in Hungary.
FoodSparks will offer as much as EUR30m (US$35.7m) over four years and aims to invest in around ten start-ups a year in Europe, and also Israel. It will be headed up by PeakBridge's Yoni Glickman as managing director. EIT Food will also offer a mentoring programme to selected companies.
"The FoodSparks fund will invest in pan-European seed and early-stage start-ups to offer access to strategic capital and support with scaling up, thereby working towards innovative solutions to some of the world's most pressing problems in food production, supply and sustainability," according to a statement from PeakBridge.
PeakBridge was founded in 2018 by former Nestle executive Erich Sieber and Nadav Berger, the founder of agri-tech investor FoodLab Capital in Israel. Both are managing directors within the Malta business.
Sieber said: "In addition to privileged access to deal-flow, due diligence and business development, the collaboration between EIT Food and FoodSparks by PeakBridge will offer our portfolio companies direct access to the EIT Food network, thus creating significant additional value in addition to our investment."
Foodsparks is backed by investment firms Ordway Selections in Switzerland, London-headquartered CPT Capital and Swedish venture-capital firm Gullspång Re:Food. Ingredients companies Givaudan in Switzerland and Puratos in Belgium are also backers.
Andy Zynga, the CEO of EIT Food, added: "Funding the next generation of agri-food innovations is one of the most important steps we can take in ensuring a sustainable future for the global food system. By working with PeakBridge and its venture-capital resources, we can offer entrepreneurs and start-ups across Europe the chance to realise their ambitions and scale up their ideas – whether that's finding the next big meat alternative or reducing food waste."
PeakBridge has made a number of investments outside of the FoodSparks fund. A selection includes Ukko, a bio-tech firm in Israel centred on eliminating food allergies through artificial intelligence technology, and Qualitas Health, a Texas-based business trading as IWI producing Omega-3 and algae-based nutrition products.