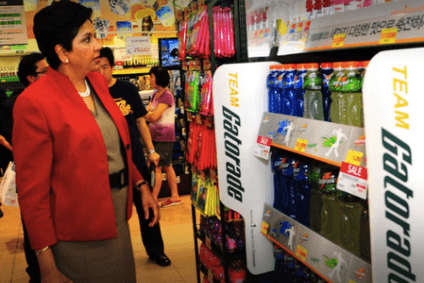 PepsiCo chief Indra Nooyi today (11 February) warned the global macroeconomic challenges facing business will persist in 2016, claiming she had not seen trading conditions of this nature in her time in business.
Speaking after PepsiCo announced its results for 2015, Nooyi, the company's chairman and CEO, said the Lay's and Quaker owner expected "a continuation of the many macro challenges we face this year".
Nooyi pointed to a "strong" US dollar eating to PepsiCo's results, particularly in emerging markets in Latin America and eastern Europe. She also warned "sluggish growth or recession in most developing and emerging markets", as well as political and social unrest in a number of regions, would endure this year. Additionally, the PepsiCo boss cited "increased government regulation" as one of the macro factors the company has to consider.
On a conference call with analysts to discuss the numbers, which also included forecasts for 2016 that showed PepsiCo estimating its top-line growth would ease this year, Nooyi warned the US economy is only experiencing a "delicate" recovery.
"Over my several decades in business, I have never seen this combination of sustained headwinds across most economies, combined with high volatility across global financial markets," she said. "From my meetings and observations traveling around the world, I have noted slow economic growth or recession across the US and a few other countries, as a combination of geopolitics and oil have created many challenging economic outcomes.
"The slower economic growth has resulted in lower demand for commodities, which has put extreme pressure on previously-booming economies like Russia, Canada and Brazil, just to name a few. In addition, increased government regulation, including increased taxation, labeling requirements and limitations on social programs, are placing further pressure on consumer demand."
Nooyi added: "These macro issues have created three broad risks for the consumer and for CPG companies. First, the widespread economic malaise has created a strong US dollar, which has the effect of creating local inflation in international markets and threatens to derail the US economic recovery. Second, volatile financial markets may cause a pullback in corporate investment and consumer spending. And finally, the continued weak economic performance is causing widespread political and social turmoil across the globe, which may create even greater economic harm."
In 2015, PepsiCo's net revenues rose 5% in 2015 on an organic basis, with growth across its operating units. On a reported basis, net revenues fell 5% to US$63.06bn due to the impact of foreign exchange.
Operating profit was down 13% at $8.34bn due in the main to a $1.36bn impairment charge on PepsiCo's business in Venezuela.
PepsiCo provided a figure for "core, constant-currency operating profit", which excludes items like restructuring costs and pension benefits, as well as the impairment and foreign exchange. On that basis, operating profit rose 6%.
The Venezuela charge also weighed on PepsiCo's net income, which dropped 16% to $5.45bn.
Nooyi said PepsiCo had had a "terrific" 2015. The company has forecast a 4% increase in underlying sales in 2016 – excluding foreign exchange and an extra trading week – an estimate down on the growth seen last year. 
The PepsiCo boss said the group was "well-positioned" for the year ahead in what she underlined is a "rather challenging global landscape".
She said: "We have made a prudent appraisal of those factors outside of our control and we are controlling those factors we can control. Our teams around the globe are executing well. Our innovation pipeline is full and promising. And the sustained investments we've made in strengthening marketing and developing cutting-edge capabilities will serve us well as we move through the year.
"What we can control, we are doing very well: execution; productivity; innovation now on the shelf. We are doing a very good job. And that's giving us some tailwinds. What we cannot control, which is the geopolitical issues, this incredible currency turmoil, we just have to accept it for the moment. And so I'd say the teams are executing very well in the marketplace. And that's why we feel cautiously optimistic, on the one hand, while feeling despondent about the macros on the other hand."