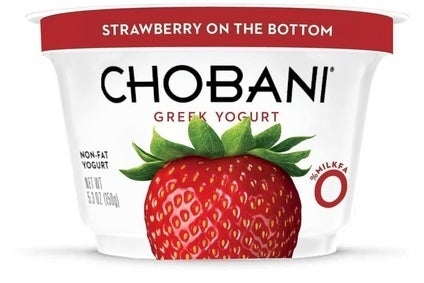 PepsiCo is reportedly vying with arch-rival Coca-Cola Co. to invest in Chobani, the US-based yoghurt maker that has driven the rise of the Greek yoghurt market in the country.
Reuters, citing unnamed sources, said the soft drinks giants were in talks to buy into Chobani, which has been weighing up expressions of interest from suitors wanting to invest in the business.
Chobani is looking to sell 10-20% of the business, including warrants owned by private-equity group TPG Capital, Reuters reported. Beyond PepsiCo and Coca-Cola, other companies are in talks with Chobani about investing in the company, the newswire said.
The yoghurt maker last year secured investment of US$750m TPG to "fund future growth".
Officials at Chobani, Coca-Cola and TPG in the US could not be reached for immediate comment.
A spokesperson for Coca-Cola said: "We do not comment on speculation or rumour."
PepsiCo and Coca-Cola have dabbled in the dairy sector. Through a venture with German dairy group Muller, PepsiCo sells yoghurts in the US.
Coca-Cola produces its dairy products in partnership with dairy firm Select Milk Producers. The two companies teamed up in 2012 to form Fair Oaks Farms Brands, which controls the Core Power protein milk shake brand. Last year, Coca-Cola launched Fairlife "ultra-filtered" milk across the US.