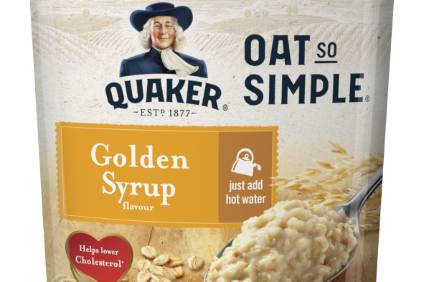 PepsiCo has relaunched its Quaker cereals in the UK, with the products now containing less sugar.
The US group said the reformulation was "a huge step forward for the brand".
Among the changes, the Quaker Original variant, across rolled oats and the Oat So Simple sachets and pots, will contain no added sugar. PepsiCo said a "natural flavouring" had been added to "enhance the sweetness" of the products.
PepsiCo provided some overall figures to demonstrate how much sugar and how many calories the reformulation had removed from the range.
The company said more than 175,000 kilograms of sugar had been removed from the total Quaker portfolio. The range contains "over 700 million fewer calories" each year, it added.
According to data from Statista, the Quaker Oats So Simple line was the fourth largest breakfast brand in 2017 in the UK when ranked by "number of users".
Third in the ranking was Post Holdings' Weetabix, with Nestlé cereals second and the Kellogg's brand at one.
Of the top four, only Weetabix saw its users rise in 2017 versus 2016, Statista said.