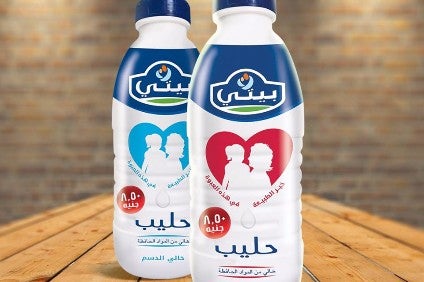 Beyti, an Egypt-based dairy and juice business owned by PepsiCo and Saudi Arabian food group Almarai, looks set to receive support from the European Bank for Reconstruction and Development to finance its expansion.
The provision of a "long-term" loan of US$44m to the venture has passed the final review stage within the EBRD, the bank said. The EBRD's board will meet to approve the finance on 13 December.
The loan will help Beyti invest in capital expenditure to expand its dairy and juice production capacities and widen its distribution network "to strengthen its presence in the Egyptian dairy and juice sectors", the bank said.
PepsiCo holds a 48% stake in Beyti, with Almarai the majority investor in the business, owning 51%.
The two companies, through their International Dairy and Juice venture, snapped up Beyti in 2010.
Beyti was formed in 1998 and makes a range of dairy products, including UHT milk and yoghurt.
PepsiCo and Almarai set up their International Dairy and Juice venture in 2009. The US food and beverage giant initially held a 52% stake in the business but Almarai became the majority shareholder in 2012.