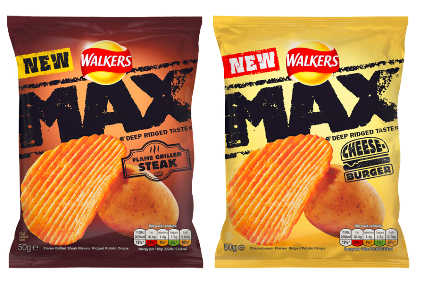 PepsiCo is extending its Walkers Max brand with the addition of single serve crisp varieties.
The company is expanding Walkers Max with the introduction of Max flame grilled steak and Max cheeseburger variants in the UK with an RRP of GBP0.75 for a 50 gram pack. They are being offered to retailers in a three case stacker pack, which also includes the Walkers Paprika SKU.
The launch follows on from PepsiCo's launch of Walkers Max flamin' hot last January. PepsiCo said that this was the "number one" launch in single-serve crisps in 2015.
"As Walkers Max continues to grow, we're delighted to be extending the range with two new and exciting flavours. At PepsiCo we're committed to delivering unique products and flavours to help support retailers and ultimately drive category growth," Matt Goddard, head of field sales at PepsiCo, commented.