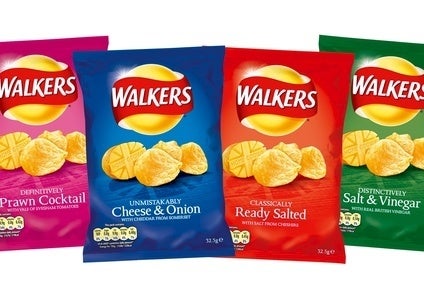 PepsiCo announced today (6 June) it is investing £58m ($72m) in its Walkers crisps manufacturing site in the UK city of Leicester.
The funds will be used to for new manufacturing lines and in the upgrading of facilities to boost the production of Walkers crisps and snacks.
US food and beverage giant PepsiCo said this is the company's biggest investment in the UK in the last 25 years and that more than £120m had been invested in UK manufacturing operations and supply chain since 2020.
"The scale of this latest investment is purposeful in securing the future of the factory and positioning Walkers for further growth in the long-term," said PepsiCo in a statement.
The company said the new technology will enable the development of further "healthier" snack ranges.
Jason Richards, general manager at PepsiCo UK and Ireland, said: "As we look ahead to the next 75 years [Walkers Crisps celebrates its 75th anniversary this year] and future-proof our UK operations, this £58 million investment will transform our manufacturing site and installing state-of-the-art equipment will help us deliver on our ambitions on packaging and health."
The new production lines will focus on increasing capacity for walkers' Wotsits and Monster Munch brands.
There is also new investment in sustainable equipment with the goals of reducing greenhouse emissions related to heating and cooking and reducing the amount of virgin plastic used in multi-pack outer packaging by 56 tonnes a year.
New cardboard designs replacing outer plastic packaging on millions of 20-bag multi-packs and a new, stronger stretch film on pallets to use less virgin plastic are also on the cards.
The company has committed to reaching net-zero emissions by 2040.
PepsiCo announced a trial of paper-based and recyclable outer packaging for Walkers crisps in March this year.
The funding will also bring in a new technology to enable the development of further healthier ranges from 2024. Walkers' said its ambition is to have half of its snack sales come from products that do not classify as HFSS (high in fat, salt and sugar) by 2025.
Upgrades will include new training and upskilling facilities for the 1,120 Leicester employees, with up to 100 new roles.
PepsiCo invested £24m in its Lincoln factory – also located in England's east Midlands – in 2021. This was to expand production of another of its Walkers' snack brands, Quavers.