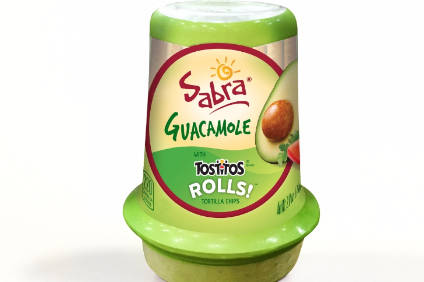 Sabra Dipping Company, the US-based joint venture between PepsiCo and Israel's Strauss Group, has expanded its line of dips and spreads with the launch of Sabra Guacamole Grab N' Go.
The new product, launched across the US this month, combines Hass avocados with Tostitos Rolls Tortilla Chips from PepsiCo's Frito-Lay division in a "complete 220 calorie snack", Sabra said.
Tracy Luckow, Sabra's MD for new business, said: "Growth in the category and consumer interest in on-the-go options has driven this innovation… making it even more convenient for avocado lovers to enjoy a delicious daily dose of guacamole."
According to Sabra, "on-the-go snacks have become so popular that 77% of consumers prefer ready-to-eat snacks such as Guacamole Grab N' Go over those that need to be prepared".
The new line follows the announcement last month of the launch of Sabra Spreads – a three-variety range of hummus refrigerated sandwich spreads.
Israel-based food and beverage company Strauss Group, which set up the Sabra joint venture with PepsiCo in 2011, said last month that sales and earnings rose in the first half of the year, with the company enjoying growth from its domestic business and from Sabra.
Strauss said net income was up 39.1% at NIS185m (US$49.1m) in the first six months of 2016. Operating income grew 27.8% to NIS396m.