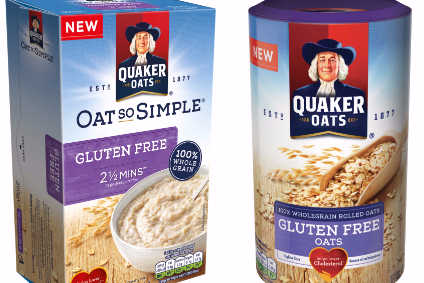 PepsiCo is taking its Quaker Oats porridge brand in the UK into the gluten-free category in a bid to tap into rising demand in the country for free-from food.
A 510g canister of traditional rolled oats and a 350g box of ten Oat So Simple sachets will be available from next week, across all the grocery, wholesale and convenience channels, PepsiCo said.
"Gluten is a protein which occurs naturally in wheat, rye and barley. Although oats are naturally gluten free, they may come into contact with grains containing gluten during farming, storage or transportation. Quaker Oats has introduced a breakthrough process, believed to be unique to the industry, to sort and clean the oats, ensuring they cannot be contaminated with gluten," Jeremy Gibson, marketing director, nutrition for the brand, said.
Citing data from Mintel, PepsiCo said the UK's free-from market is worth GBP470m and is predicted to grow by 43% in the next four years. The gluten free oats market is worth GBP4.2m, up 20% versus last year, PepsiCo added.
The rolled outs have a recommended price of GBP2.49; the sachets at GBP2.99.