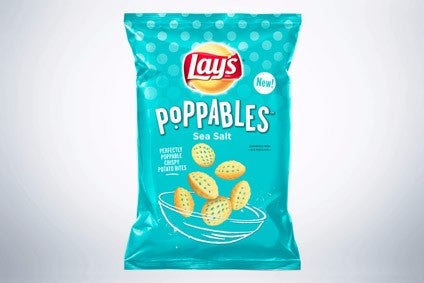 PepsiCo is rolling out a new potato snack under its Lay's brand in the US.
Unlike the majority of Lay's potato chip products, PepsiCo is billing Poppables as a "multi-dimensional, light-textured potato snack".
Poppables flavours include white cheddar and sea salt. The line is available nationwide in two pack formats: five-ounce bags, which are being offered at a suggested retail price of US$3.29 each, and two-ounce bags for a suggested retail price of $1.69.
"Poppables is more than just a delicious snack; it's about reminding our fans to enjoy lighthearted and fun moments," said Sarah Guzman, senior director of marketing within PepsiCo's Frito-Lay North America division. "From snack breaks at the office to dance parties in the living room, Poppables is the perfect pairing for all our fans' pop-worthy moments."
The company launched the line at an event at Dylan's Candy Bar in New York City yesterday (17 March).
In 2016, PepsiCo saw net revenues rise from its Frito-Lay North America snacks arm, increasing to $15.5bn from $14.78bn in 2015.