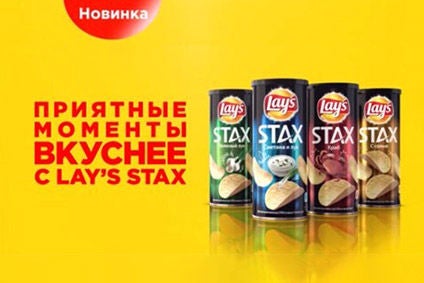 PepsiCo has announced the launch of its Lay's Stax crisps sub-brand in Russia.
The company said yesterday Lay's Stax, which are sold in 110g cylindrical packs, are available in flavours popular in Russia including sour cream and onion, salted, green onion and crab.
Darya Tebar, PepsiCo's marketing manager in Russia, said the launch of Lay's Stax marked a step into a "new niche market" in the country. The launch followed a study of local "tastes and preferences", Tebar said.
Lay's Stax are already sold in other markets such as the US and Brazil and the product was introduced in France towards the end of last year in original, sour cream and onion, plus paprika varieties.
As in other international markets, PepsiCo is taking aim at Kellogg's Pringles brand with Lay's Stax.
In November, PepsiCo's business in Kyrgyzstan launched a cottage cheese product under its Merry Milkman brand, with the start-up of a new production line at its Bishkeksut facility in the country.