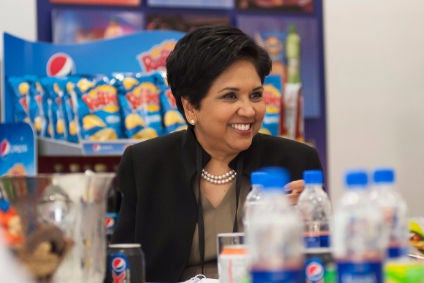 PepsiCo has set up another incubator, adding to its Europe-focused Nutrition Greenhouse with a unit focusing on North America dubbed The Hive.
Indra Nooyi, the US food and drinks giant's CEO, said yesterday (10 July) the incubator would look to grow the company's own fledgling brands and work with other fledgling businesses.
Speaking to investors and analysts on a conference call to discuss PepsiCo's second-quarter and first-half financial results, Nooyi, in response to a question on how the company sought to grow smaller brands, pointed to its launch last year of lower-calorie soft drink Lemon Lemon.
"If I look at products like Lemon Lemon from last year, it was rated the best new product launch of last year. It reached a pretty impressive level of sales yet, on the direct-store-delivery system, it didn't do that well because it was cannibalising space from a core carbonated soft drinks category," Nooyi explained.
"What we have created now is this new entity within PepsiCo called The Hive. We have taken it out of the core headquarters. It's going to be an entrepreneurial group that's going to take some of the best new products that we launched and that reached a certain size but that we never really allowed to thrive in the DSD system. We're going to nurture and incubate it in whatever distribution system they think is the best for it and when it reaches a certain size, we can decide whether it should come into the DSD system or not.
"And this group is also going to look at other venturing brands they can bring in. We want to create an environment where we have a business within a business, a small entrepreneurial, sort of agile, group that's thinking about the new-age consumer that loves discovery brands, while allowing the big brands to thrive in the overall mothership."
PepsiCo's European arm launched Nutrition Greenhouse last year, inviting eight companies across six countries to work with its executives for six months on how to "accelerate" their growth. In May, the Lay's and Quaker owner announced Nutrition Greenhouse would return for a second year.
Nooyi added: "[The Hive] is not new to PepsiCo North America – we are doing something like this in Europe also. It's a very local business, so we have to be careful not to make it global. It's a very local business and we are going to play with these businesses because there is a consumer that is willing to pay for discovery brands and they can reach a decent level of growth and so we are going to go off and see how to make it happen. We are feeling excited about what we have just launched. Let's see what happens in the next few months and years."
A spokesperson added: "The PepsiCo Hive will serve to foster the next generation of rising, high-potential PepsiCo brands in an environment and structure apart from the company's global headquarters. We'll share additional details in the coming weeks."
PepsiCo reported an 8% fall in first-half net profit to US$3.16bn, in part hit by a one-time expense of $777m. The company's core net profit stood at $3.68bn, up from $3.51bn in the first half of 2017.
On a reported basis, PepsiCo's first-half operating profit rose 1% to $4.84bn. Net revenue grew 3% to $28.65bn.
just-food interview from June 2018: "Agility puts you in the game" – PepsiCo on its European incubator Nutrition Greenhouse