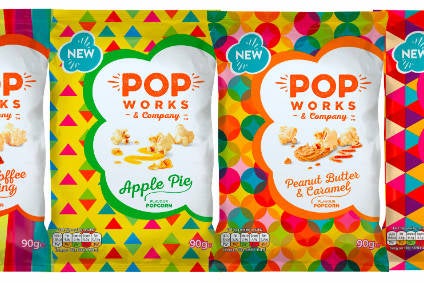 PepsiCo is targeting the UK popcorn category with the launch of a new brand, Pop Works & Company.
The "premium" line utilises a "wet popping" method that PepsiCo said creates a "light" and "crunchy" popcorn. It includes four varieties: sticky toffee pudding, peanut butter & caramel, apple pie, and sweet & salty. The line has an RRP of GBP1.50 (US$1.98) for a 90g pack.
The Pop Works launch will be supported by a "unique digital campaign" and "experimental shopper marketing", partnering with "social influencers" and vloggers.
According to data provided by PepsiCo, the UK popcorn sector grew by 170% between 2010 and 2015. PepsiCo UK MD Thomas Barkholt revealed that the company expects the category to maintain this growth rate over the coming five years.
"Popcorn already presents a tremendous opportunity for retailers and we anticipate that the segment will maintain its rate of growth in the next five years, so we are keen to support retailers and help them to take advantage of the growth in demand," he said.
PepsiCo currently accounts for 29% of global popcorn sales.