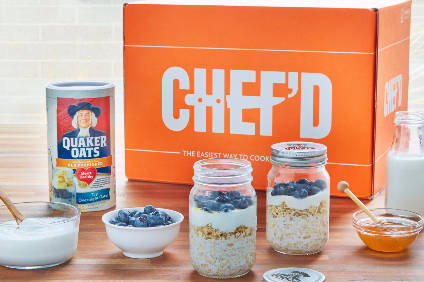 PepsiCo is selling a Quaker breakfast kit in the US through Chef'd, the online meal kit business.
Three Quaker-branded Overnight Oats will be available on the Chef'd marketplace.
"With more people than ever using meal-kit delivery services, our collaboration with Chef'd allows us to introduce more people to a new way of getting creative in the kitchen with oatmeal," Becky Frankiewicz, the general manager of PepsiCo's Quaker Foods North America arm, said.
Overnight Oats are made up of oats, dairy and toppings like fruit or nuts in a mason jar that is refrigerated overnight to eat in the morning. "The trendy breakfast was popularised by consumers on Pinterest last summer and quickly became a sensation, even making it into Google's 2016 Food Trends report," the companies said.
Kyle Ransford, the founder and CEO of Chef'd, added: "We've seen first-hand the growing demand for fun, flavorful, nourishing breakfast options, particularly among the millennial generation."
The Overnight Oats are available on Chef'd for $10 for what the companies called "a double serving".
In September, Hershey announced the launch of dessert kits through Chef'd.