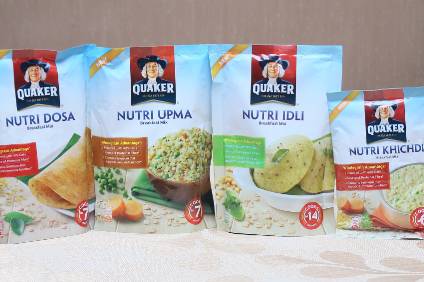 PepsiCo has expanded its portfolio in India with a line of breakfast dishes under the Quaker brand based on local, traditional delicacies.
The new Quaker Nutri Foods line, including popular dishes such as Idli, Dosa, Upma, and Khichdi, represent "a healthier version of some of the most loved ready-to-cook Indian breakfast dishes", PepsiCo said. The products contain a "significant portion of Quaker oats, dietary fibre, protein and selenium – which helps to support immune function".
Deepika Warrier, the vice-president for PepsiCo nutrition business in India, revealed the group is looking at launching the line in the Middle East by the end of this year.
"The urban Indian consumer is evolving and so are their daily nutritional needs," Warrier said. "At the same time, consumers seek a familiar taste experience. Our focus while creating the new platforms has been to provide solutions to nutritional requirements while ensuring consumers enjoy a great taste experience. "
PepsiCo plans to double its production capacity for Quaker Nutri Foods in India, although details will be given at a later date, Warrier said. It does have plans to launch a range of oat-based pasta and soup products in India.
Quaker Nutri Foods are available in 40g and 150g packs online and in traditional and modern outlets across India starting at INR40 (US$0.61) for 40g.