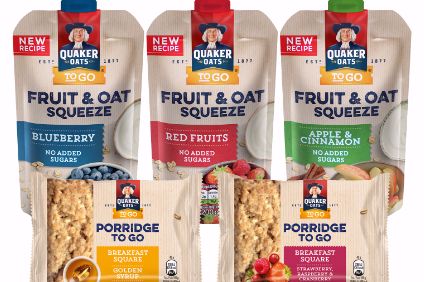 PepsiCo is expanding its Quaker Oats range in the UK with the launch of a selection of products aimed to appeal to time-pressed consumers eating breakfast on-the-go.
The Quaker To Go range includes Porridge To Go Breakfast Squares made from 100% wholegrain oats. They come in microwaveable packaging that enables consumers to heat up the product in ten seconds. They are free from artificial flavours, colours and preservatives, and are available in two flavours: golden syrup and strawberry; and raspberry and cranberry.
The other product in the Quaker to Go range are Fruit & Oat Squeeze Pouches, which PepsiCo is relaunching with a new recipe, using a combination of natural yogurt, fruit and oats, with no added sugar, colour or preservatives. Designed to be consumed straight out of the pouch, PepsiCo claims this makes them ideal for on-the-go consumption. They are available in three flavours – red fruit; apple and cinnamon; and blueberry.
"With an increasing number of people looking for breakfast options that are healthier yet convenient, Quaker To Go caters for this demand and we anticipate the new range will be popular with those looking for a wholesome, satisfying and portable breakfast to kick-start their day," Quaker Oats brand manager Alessandra Zoritto said.
The Breakfast To Go Squares are available in single-serve packs which have an RRP of GBP0.75, while a duo pack has an RRP of GBP1.39. The Fruit & Oat Squeeze pouches have an RRP of GBP1.39.
Last month, PepsiCo added protein-enhanced versions to its line of Quaker Oat So Simple porridge products in the UK. The US food and beverage group is trying to tap into the growing interest in protein cereals in the UK, a relatively new but fast-growing segment in the country.