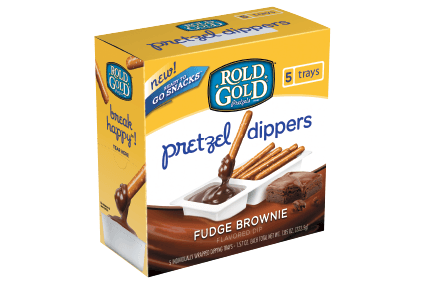 PepsiCo has added sweeter ingredients to its range of Rold Gold savoury crackers in the US through the launch of two lines.
Rold Gold Pretzel Dippers include pretzel rods paired with sweet dips. They are available in two flavours: fudge brownie and cookies and cream.
Pretzel Cracker Sandwiches include a creamy fudge line, alongside a second product with a cheddar-flavoured filling.
The Pretzel Dippers come in five-count boxes at a suggested retail price of US$4.49 and in single serve 1.57-ounce packages for $1.29. The Pretzel Cracker Sandwiches are available in six-count boxes for a suggested retail price of $3.49.