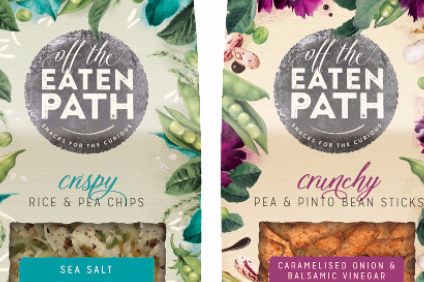 PepsiCo has rolled out its US vegetable snacks brand Off The Eaten Path in the UK.
The Walkers and Doritos owner, which first launched Off The Eaten Path in the US, said the products on sale under the brand in the UK were "completely different", although, despite repeated requests, the company had not specified the differences at the time of writing.
In a statement, PepsiCo described the UK version of its Off The Eaten Path snacks as "a great source of fibre and contain no preservatives and no artificial colours. Made from vegetable-based ingredients such as green peas, pinto beans and white beans, every snack is then seasoned with either simple sea salt, sour cream and cracked black pepper or caramelized onion and balsamic vinegar flavouring for a delicious snack".
The range marketed in the UK include Sea Salt Crispy Rice & Pea Chips and Caramelised Onion and Balsamic Vinegar Crunchy Pea & Pinto Bean Sticks

The snacks are vailable in single-serve packs, with an RRP of GBP1, as well as sharing packs with a recommended price of GBP2.25.