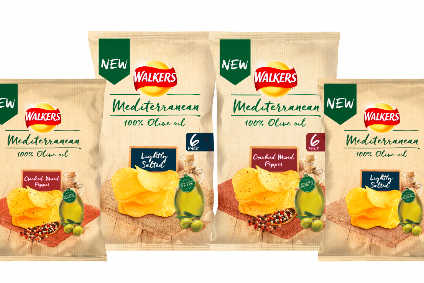 PepsiCo is launching a range of "premium" crisps in the UK, Walkers Mediterranean, cooked in "100% Spanish olive oil".
The company said the new product, which will be available from 23 January, has been developed "to meet demand from shoppers seeking snacks made with simple ingredients".
Walkers Mediterranean will be available in Lightly Salted and Cracked Mixed Pepper variants. The cracked mixed pepper flavour "uses four different types of peppercorns which are simply cracked and sprinkled onto the crisps so that the red, black and white flecks of pepper are clearly visible, making it visually pleasing but also taste great", PepsiCo said.
Andy Hawkswell, a marketing manager at PepsiCo in the UK, said the new range "was created to embody the essence of the Mediterranean". "The use of olive oil in the cooking process is particularly innovative. Symbolic of the Mediterranean, olive oil has gained real traction in the UK in recent years. Our research has shown that Walkers Mediterranean will have real appeal to shoppers looking for a simple, natural, tasty snack and with its premium credentials."
The new range will be on sale with an RRP of GBP1.99 (US$2.43) per 140g sharing bag and GBP1.89 for a multipack of six 25g servings.