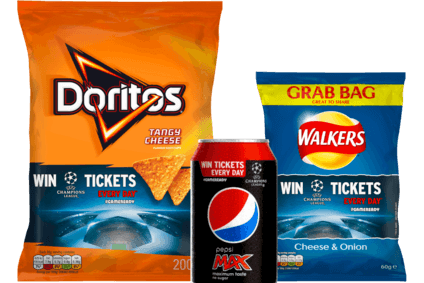 Q3 net income of $533m, versus $2.01bn year earlier
Venezuela impairment charge of $1.36bn
Net revenue down 5%; organic revenue up 7%
PepsiCo today (6 October) reported lower third-quarter profits, affected by the strong US dollar and a charge on its operations in Venezuela, but the Lay's and Quaker manufacturer upped its forecast for constant-currency earnings.
The company expects its core, constant-currency earnings per share – which as well as excluding the impact of foreign exchange, strips out items including restructuring and impairment charges – to rise 9% this year, compared to an earlier forecast of 8%.
PepsiCo saw its core, constant-currency EPS increase 14% in the third quarter. Core, constant-currency operating profit rose in each of PepsiCo's divisions. The exception was its Asia, the Middle East and north Africa unit, where sales rose but earnings were hit by inflation, an impairment charge on a venture in the Middle East and lapping a gain from last year.
On a reported basis, PepsiCo's net income in the 12 weeks to 5 September was $533m, compared to $2.01bn a year earlier. Its operating income stood at $1.42bn, versus $2.85bn a year ago. PepsiCo booked a $1.34bn impairment charge on its business in Venezuela amid a change in the way the company is accounting for the unit.
Net revenue fell 5% to $16.33bn. On organic basis, which adjusts for M&A and other structural changes, as well as foreign exchange translation, PepsiCo's net revenue was up 7.4%, thanks to gains from across the business.
"Our year-to-date mid-single-digit organic revenue growth and double-digit core constant currency EPS growth reflect our focus on managing those things that are in our control in a challenging environment, namely innovation, brand building, marketplace execution, and productivity. Productivity, in particular, continues to simultaneously fund investments in our business and contribute to margin enhancement, and we remain on track to deliver our five-year, US$5bn productivity savings target through 2019," chairman and CEO Indra Nooyi said.
Shares in PepsiCo were up 1.77% at $95.83 at 08:24 EDT.