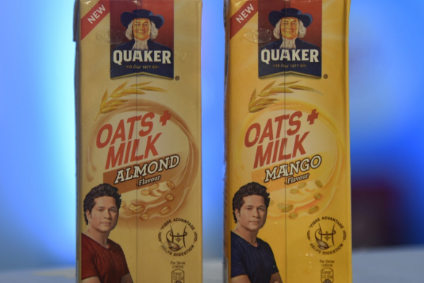 PepsiCo is making its first move into India's growing dairy market with the launch of a ready-to-drink milk product under its Quaker Oats brand.
The US group said the new Quaker Oats plus Milk product aims to target the "breakfast nutrition" market.
The company said it will initially sell the product in two flavours – almond and mango – in 180ml cartons for drinking on-the-go.
According to PepsiCo, the new product is "a value-added, grain-based, fibre-fortified dairy beverage that is targeted to cater to the nutrition needs of breakfast". The company said it "leverages our patented SoluOats technology, that provide a great blend of the wholesomeness of oats and the goodness of milk".
In a posting on social media, PepsiCo said the product had been launched "in association" with former Indian cricketer Sachin Tendulkar. "He's the co-creator of this range, as it's with his insights that we have developed our products," PepsiCo said, without providing further details.
The launch comes hot on the heels of PepsiCo's expansion of its portfolio in India, announced earlier this year, with a line of breakfast dishes under the Quaker brand based on local, traditional delicacies.
PepsiCo said the Quaker Nutri Foods line, including popular dishes such as Idli, Dosa, Upma, and Khichdi, represent "a healthier version of some of the most loved ready-to-cook Indian breakfast dishes".